Print Materials
Print materials to provide details or to offer ideas or suggestions on specific topics and content covered in About Autism.
---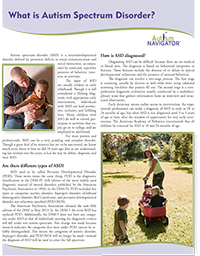 What is Autism Spectrum Disorder?
Description of ASD, how it is diagnosed, and red flags in toddlers to share with families first learning that their child may have ASD.
---
Critical Information for Parents
Critical information for parents of young children about how social communication delays may be early signs of ASD.
---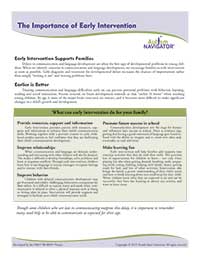 Importance of Early Intervention
Description of the importance of early intervention for families of children with communication and language delays.
---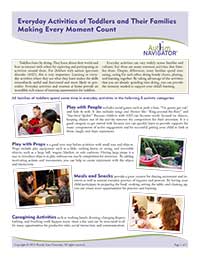 Everyday Activities of Toddlers and their Families:
Making Every Moment Count
This describes 8 categories of everyday activities that can provide an incredibly rich source of learning opportunities for toddlers and how families can take advantage of the activities that you are already spending time doing to provide the intensity needed to support learning for a toddler with ASD.
---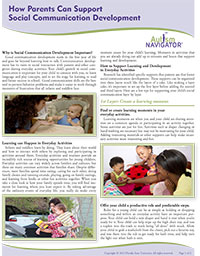 How Parents Can Support Social Communication Development
Description of three layers of supports that all families can use in everyday activities to foster their child's social communication development.
---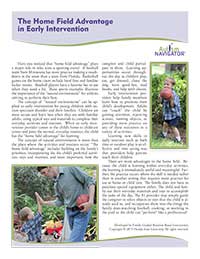 The Home Field Advantage
An explanation of how services and supports delivered in natural environments provides a home field advantage for the child and the family.
---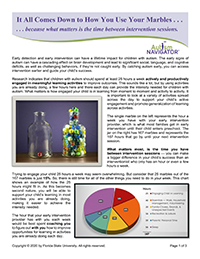 How You Use Your Marbles
This describes how to achieve the intensity needed to improve outcomes for children with autism by coaching parents to support their child's learning in everyday activities, because what matters most is the time between intervention sessions. Tips are provided on how early intervention can be done virtually.
---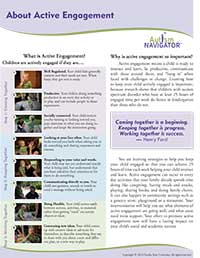 About Active Engagement
This describes the 8 components of active engagement organized into 3 steps and explains why active engagement is so important for children with ASD.
---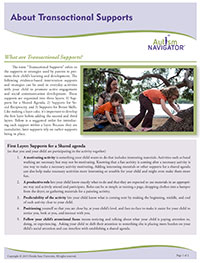 About Transactional Supports
This describes the 13 components of transactional supports organized into 3 layers and explains how these supports embedded in everyday activities can help to achieve the intensity needed to promote active engagement for children with ASD.
---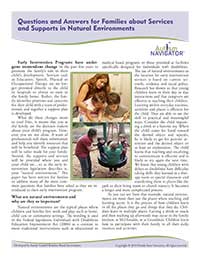 Questions and Answers for Families About Services and Supports in Natural Environments
This Q & A is a compilation of questions that families have asked providers about the use of parent implemented intervention services and supports. The answers support family centered practice and the active role of the family in the intervention process.
---